Throwaway Style is a monthly column dedicated to examining all aspects of the Northwest music scene. Whether it's a new artist making waves, headlines affecting local talent, or reflecting on some of the music that's been a foundation in our region; this space celebrates everything happening in the Northwest region, the first Thursday of every new month on KEXP.org.
---
There are few bands around today better at wringing pathos out of pastiche than Shannon & the Clams. Theirs is a sound culled from a charcuterie board of styles; golden oldies, surf with a vague hint of psychedelia, 80's punk, and rhythm and blues just to name a few (even a broken clock is right twice a day; Google lists them as an R&B group). Immense musical chops, a specialty vintage visual aesthetic, and a singular lack of pretentious self-seriousness are key ingredients in the special flavor of their stew. Principal songwriters Shannon Shaw and Cody Blanchard draw from an endless well of influences (musical and otherwise) and life experiences to draft their music while still being so honed in on their individuality that everything they record sounds like it could only come from them.
One listen to the warped sock hop vibe of their albums will shed blinding light on why legendary filmmaker John Waters is a fan. If Shaw and Blanchard were making music 35 or 40 years ago, they would have been a surefire lock for the Hairspray soundtrack.
A decade ago, Shaw and Blanchard released their breakout second album—the stirring and immaculate Sleep Talk, a gorgeous offering of Memphis soul and 50's style rock 'n roll which established Shaw as one of contemporary guitar music's few truly arresting vocalists. After Sleep Talk, Shannon & the Clams signed to Sub Pop subsidiary Hardly Art—which was for a few years arguably the best rock label on Earth—releasing Dreams in the Rat House and Gone Before the Dawn, rife with odes to dearly departed pets and humming Chevrolet engines; fables and fairy tales about wizards and rabbits and vagabonds and men crawling from the mud. 
On their magical Hardly Art releases, Shaw and Blanchard proved themselves as psychedelic purveyors lyrically if not exactly musically, as well as being two of the most emotionally resonant songwriters in the West Coast rock landscape.
Their 2018 opus Onion was produced by Black Keys frontman Dan Auerbach and released on his label Easy Eye Sound (as was Shaw's solo debut from the same year, Shannon in Nashville). The album was lauded for its step in the direction of songwriting maturity, mostly because many of its songs were written in the wake of the tragic fire which burned down renowned Oakland artist space the Ghost Ship and claimed the lives of 36 people. Grief inevitably forces us to look deeper within ourselves, and that emotional depth caused Shaw and Blanchard to peel back the layers of their personalities. When Shaw sings "it's great to be alive" at the end of "If You Could Know," it sounds more like survivor's remorse than a celebration.
The Ghost Ship fire, the passing of an old bandmate, having to move out of her apartment of nearly 15 years because of a stalker, wildfires ravaging Napa near Shaw's parents' homes, her father receiving a cancer diagnosis, and (of course) a global health crisis turned Shaw's life upside down. She ended up moving to Portland, in the same area as Blanchard after he lived in Seattle for a few years before moving south. The Clams' indelible sixth album Year of the Spider was borne partly out of Shaw's anxiety about her life after such sweeping life changes. The full-length is lush and expansive due in no small part to Auerbach's production prowess, but also because of the atmosphere keyboardist Will Sprott provides for the band, able to wring the necessary emotion out of Shaw and Blanchard's songs. 
Clams albums usually begin with a jaunty, Orbison or Hollies-esque rave-up, but this pattern is deviated from on Year of the Spider with the spectacular opening ballad "Do I Wanna Stay" and its swelling arrangements along with Shaw's emotive singing about leaving the devil you know for the devil you don't. Followed up by Blanchard writing an honest-to-goodness disco song, singing in falsetto about the emotional repression of stereotypical masculinity on "All of My Cryin'," it's clear the Clams have embarked on new songwriting terrain.
Year of the Spider serves as a showcase of sorts for Blanchard, who arguably delivers some of his most memorably excellent songs to date, including three of them in a row here. "All of My Cryin'" is followed by "Midnight Wine," a prog-meets-Holland-Dozier-Holland song about how depression sprung from living in our increasingly deteriorating society is tied to addiction. The trio of songs is rounded out by "I Need You Bad," a classic Clams stunner ruminating on romancing our dark sides. Elsewhere, Blanchard leads the band toward forays into dark, moody folk ("Snakes Crawl") and expansive acoustic balladry ("In the Hills, In the Pines") to stimulating results.
Meanwhile, Shaw uses her songs on Year of the Spider to deepen her already formidable craft as a songwriter while communicating the adversity she's experienced over the past few years—the album's title track full of grief and fear and visits from an old friend, bad news. "Godstone" unwittingly swims with whales and the cryptic messages hidden inside of nightmares.
The sublime "Mary, Don't Go," reportedly about her former roommate (who also had to deal with the terror of Shaw's peeping tom), is heavy on nostalgic memories and the melancholy of leaving a good thing behind. Shaw masterfully adds pathos around the things we all think about when sharing space with the people we love when she belts out: "I'd like to protect you / But what if I can't?"
In the face of grand, irrevocable upheaval, Year of the Spider is not a "pandemic album," remarkably enough. These songs were written in the summer of 2019 and recorded in March 2020, while tornadoes overturned the city around the Nashville studio which birthed their two most recent albums. As the themes of the album suggest, sometimes our lives change dramatically whether we're ready or not. 
---
New, News, and Notable
Premiere: Taylar Elizza Beth - "Siq as Fuq"
On the heels of stellar single "nov 13," which was borne out of processing a harrowing near-death experience, Taylar Elizza Beth is back but not necessarily any more celebratory. Long known as one of the brightest stars in Seattle's music scene—even during the spell she lived in L.A.—Taylar croons over the Psilocybin-sprinkled Still Slippin beat about the various substances in her body ("SSRIs / Cocaine / Shot after shot after shot after shot / Mary Jane") and making decisions that fucked over her mental health. As a songwriter, Taylar has developed the unique gift of creating engrossing, memorable songs out of the things we often like to forget, and the woozy synths and booming 808s underneath her cool register on "Siq as Fuq" makes for yet another banger.
Taylar had a few things to say about "Siq as Fuck" and the Murk the Ruler-directed video:
"'Siq as Fuq' is an ode to getting fuq'd up, fuq'ing up, being a fuq up. It's about how we, and I personally, let substances get the best of me including ones prescribed. Through my music I try to remain as truthful and raw as I possibly can, never glamorizing what I've done or mistakes I've made. It is so incredibly easy to let our habits and vices control what we say and do, how we move. While on SSRI's I remember feeling like I was drowning, like I was a passenger in my own head. Mix those with party drugs and it was a downward spiral into the darkness. I will never go back there.
This video was really exciting to make because I got to wil' out a lil bit and have fun. The director/videographer Murk the Ruler is a close friend of mine and someone I really admire - his talent is out of this world. The last time we worked together on a visual was 2016's Daisies so it's been a minute! This new offering showcases how much both of us have grown as artists and humans. It was really special to create together again."
News: Tres Leches Sign to Devil in the Woods, Set to Release New Single "Leaving My Light On" September 8th
Tres Leches, admittedly one of my favorite bands in Seattle, has found a label to distribute their work after self-releasing their excellent debut Amorfo, a vibrant and gleeful disregard for genre constructs. Devil in the Woods, the Mexican-based label home to grimy garage-rock heroes El Shirota, will be releasing the forthcoming single "Leaving My Light On" next week, a few others in coming months, and Alaia D'Alessandro and Ulises Mariscal's long, long, long-awaited second album Fósil sometime next year. Mariscal takes center stage here, penning a tension-heavy ode to resilience and individuality, while D'Alessandro represents the voices trying to pull him toward assimilation. 
In a brief statement about the song, Mariscal wrote: 
"Moving to the U.S. from Mexico when I was 14, I didn't really know anything about the language or the culture. Even though there were barriers I still managed to find work and go to school. People would tell me that I wouldn't make anything of myself and want me to conform to something I wasn't. That's what I think about during the part of the lyrics that say, "si no te sientas ya veras".
I found that after trying to please those people and do everything you are supposed to do, you still feel like you're not enough. But in the end those experiences taught me what is important is that the things you are doing make you happy. And those negative comments shouldn't take away your time and energy; you need to conserve that for the things you love to do because those things are what are going to be the most impactful."
A Brief Ode to Tim's Tavern
By the time some of you read this, I will be living about five blocks away from where Tim's Tavern used to be. I went to see Mt. Fog open for Echo Ravine at the small bar by myself because my girlfriend was out of town, and ended up running into people I know but have never met me in person in addition to making new buddies. The bouncer was nice, the bartender was nice, the drinks were reasonably priced, there was that nice little outdoor area in the back. I previously had plans to catch Shaina Shepherd hosting Tim's open mic night after my move, which happened every Wednesday.
I was looking forward to having a neighborhood bar for the first time in my long life, but alas; I'm gonna need my car to drive to whatever neighborhood bar I choose now.
Vanishing Seattle reported the last day of operations at Tim's was August 22nd, citing the landlord's opinion that the music was too loud for the neighborhood—even though the venue itself never received a single complaint—and, in my opinion, the landlords seemingly continued to hike up the rent to force them out. The co-owners (and local musicians) Mason Reed and Matthew O'Toole plan on storing Tim's famous neon sign and finding a location somewhere else, but it's still a big loss for the Greenwood neighborhood, because we're a little short on official music venues in general, let alone ones that fostered community the way Tim's Tavern did. 
News: Tiger Rider Begin the Extended Rollout of New Album Hindsight
Seattle pop-punk trio Tiger Rider—which features both members of electronic pop group Slender Dan, who themselves are putting out a three-song cover EP very soon—have been working on their new album Hindsight for three years and remain patient when it comes to holding onto these songs. They've developed an ambitious way for people to hear the fourteen catchy, emotive songs on their new LP: releasing one song a week until the full album is out in the world. First up was "Tunnel Vision," a soaring take on self-abuse and self-delusion augmented by the creative drum patterns of Patrick. Hindsight itself runs the gamut from Barsuk-esque pop-rock ("Arm's Length"), 90's alternative ("This Feeling"), and Slender Dan-esque ambient beauty (its title track), supported by guitarist/singer Nick's incisive lyrics about walking the tightrope of mental health and the strain of deteriorating relationships.
Tiger Rider bassist/vocalist Heather Dickson reached out to me with some valuable insight on what went into Hindsight. You'll be able to stream "Tunnel Vision" below:
"Our new album Hindsight, which has been three years in the making, was our attempt to create a piece of art that both serves as a time capsule for this period of our lives and as something we'd be proud to listen to well into our old age. "Hindsight" is our exploration of the inner psyche and the ever-changing world we find ourselves in: existing with dualities, exposing one's own hypocrisies, living in a post-truth world, subjecting a new love to one's mental health issues, and pleading with oneself to stay alive no matter how painful living can be.
The first single, 'Tunnel Vision,' really dives into our songwriter, Nick's, agoraphobia and anxieties. He feels painfully awkward and troubled when dealing with most normal situations, yet recklessly confident in situations of heightened reality (like playing shows). He finds it difficult to live with both realities simultaneously and fears that he's hurting the ones he loves when he does. The music video (created by animator, Mike Cullen) is meant to reflect that state of chaotic stagnation, and culminates in a POV scene of being lost in a crowd. 
'Someone New' is a thought piece on how one's own struggles with mental health could negatively affect a future partner or child. It's a reflection on that inner turmoil we all experience that makes you think you're not worthy of love and makes you question if others will resent you for being the way you are. Nick's sister Jane, with the help of her partner CJ, choreographed a dance entirely in reverse for this music video. 
We were fortunate to collaborate with a lot of talented friends and family members for Hindsight. [My] sister, Brooke (of The Regrettes & Chase Petra) starred in the music video for 'The Prince,' alongside Seattle actress Daphne Sweetland. Matt Houghton (of The Requisite) and Chris Sicard (of Waking Things) were featured in the video for "Why Hide?", and additional footage for the "Stockholm Friendship" video was provided by videographer and skater, Jake Hotchkiss. The album was mastered by Seattle's Ed Brooks, of Resonant Mastering. 
Hindsight consists of 14 songs, 6 music videos, and a 78 square instagram collage (@tigerriderband). Our drummer, Patrick, engineered and mixed the album, shot and edited 5 of the 6 music videos, and created the collage. While each track is initially being released separately, the full album's 51 minute runtime flows from one track to the next with transitions and interludes. As a DIY band, we've spent thousands of hours crafting this project and could not be more excited to share it with the world.
News: Treefort Music Hall Set to Open in 2022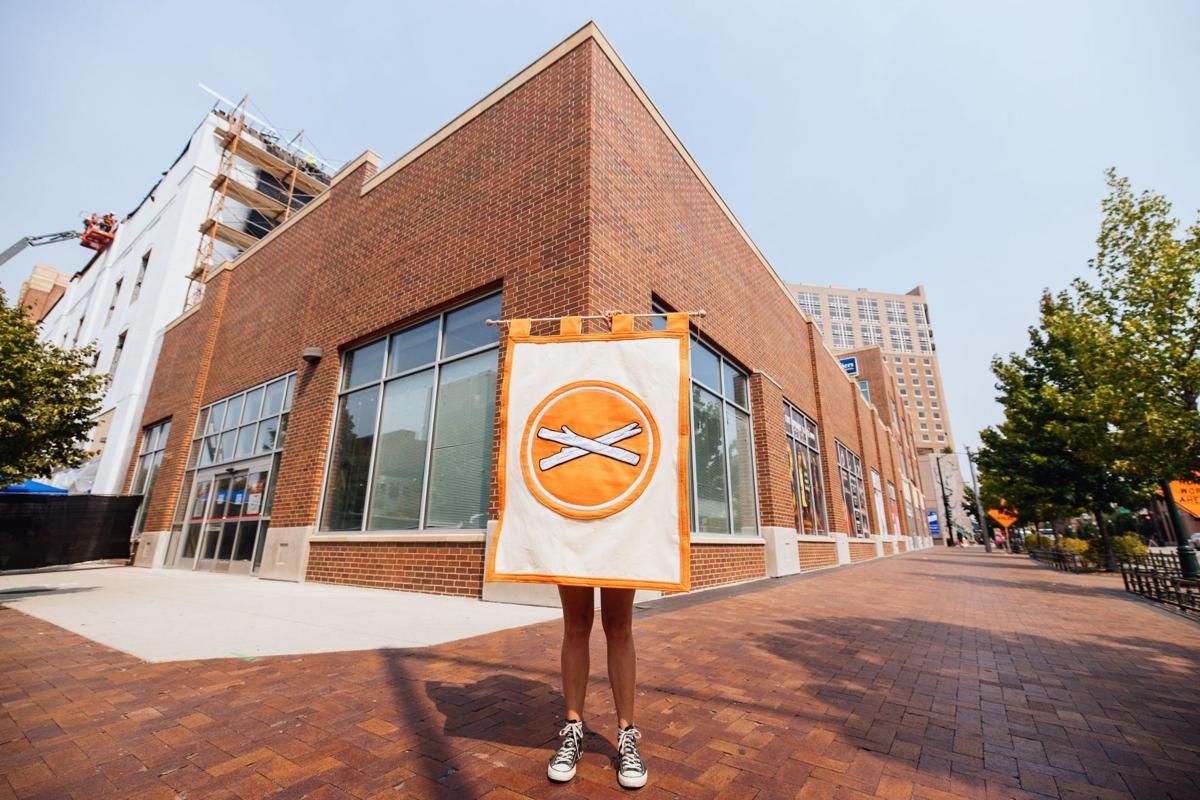 With so many changes happening to the Pacific Northwest's music festival landscape even before we embarked on a global health crisis, Treefort Music Festival was already on its way to being the region's best multi-day music extravaganza—and an excellent reason to spend a few days in Idaho's gorgeous capital city. Whether or not you're going to be in Boise later this month for Treefort's 2021 installment, Duck Club Entertainment (the creators of Treefort) have announced their plans to open Treefort Music Hall. The 500-700 capacity venue is being touted as artist-forward and state of the art, with audio/visual capabilities and "thoroughly designed green rooms with artist needs at the forefront." Set to open next summer, the venue will also have a rooftop patio, two bar areas, and a merchandise store located on the ground floor. For a lot of us music fans living in Washington and Oregon (present company included), Treefort provides us with an incredible reason to make it out to Boise, and with another permanent, year-round venue on the horizon, there will be more opportunities to spend time there. 
---
Live and Loud: This Month's Recommended Shows
(Most of these shows require vaccination cards or negative COVID tests, but I still feel an obligation to suggest extreme caution when going to shows this month.)
September 3: Shannon & the Clams and the Paranoyds at Neptune Theatre
September 3: The Grizzled Mighty and Monsterwatch at Alma Mater Tacoma
September 11: Cafe Racer Grand Opening with Velvet Q, Taylar Elizza Beth, Moroccan Dog, Mt. Fog, and DJ Marvelette
September 12: Mo Troper and Dogbreth at The Vera Project
September 16: Payge Turner and The Ancient Robotz at Barboza
September 24: Hey Marseilles, Cumulus, and Claudine Magbag at Neumos